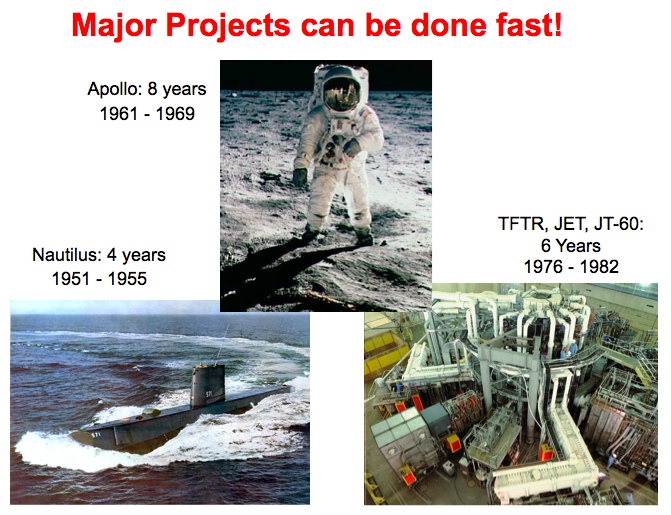 Accelerating the Development of Fusion Power
SOFE Town Hall Meeting, June 27, 2011, 7-9 pm

Updated on July 10, 2011
---
Introduction

The purpose of this site is to provide background information on Accelerating the Development of Fusion Power. Suggestions for other links, reports and your thoughts would be greatly appreciated. Please send suggestions for information or your comments for posting as an email attachment to Dale Meade (dmeade at pppl.gov).
---
Rapid Development of Complex Large-Scale Technology is possible

Manhattan Project (fission discovered in 1939, Manhattan Project initiated in Aug 1942, first nuclear test in July 1945)

Nautilus Submarine ( Authorized by Congress in Aug 1951, Comissioned/full power nuclear operation in Jan 1955)

Project Apollo - (Kennedy announces in 1961, Armstrong on moon July 20, 1969)
PDX (selected by Fusion Office July 1974, completed Nov1978), DIII, PLT had similar schedules
TFTR (selected by Fusion Office in ERDA Jul 1974, Authorized by Congress Mar 1976, Completed Dec 1982), JET, JT-60 had similar schedules


Significant new results in regimes never before accessed ~ 3 years after first plasma that signified construction completion.


Examples of other projects would be welcomed.

---
SOFE Town Hall Meeting - Accelerating the Development of Fusion Power (Announcement)

Introduction – Dale Meade
Breaking the Mold for a New Strategy – Ray Fonck, University of Wisconsin, Madison, Wis

Perspective from China on Accelerating Fusion Development – Jiangang Li, Institute of Plasma Physics, Chinese Academy of Science, Hefei, China
Fusion... How do we do more, sooner? John Sethian, Naval Research Laboratory, Washington, DC

Insights from US ITER: Strategies for Accelerating Fusion Energy as a Project – Ned Sauthoff, Oak Ridge National Laboratory, Oak Ridge, TN

Elements Needed to Accelerate Fusion Development - Mike Dunne, Lawrence Livermore National Laboratory, Livermore, CA

---
Submitted for Discussion on Accelerating the Development of Fusion

---
Past Plans and Thoughts for Accelerating the Development of Fusion
U.S. Plan to Develop Fusion (1976) , Vol I (3.2 MB, pdf) - includes analysis of accelerated paths including the present "we never get there" path.
Fusion Energy Act 1980 (408 kB, pdf) DEMO online in the 1990s, incorporated Logic III scenario of 1976 Report

An Accelerated Fusion Power Development Plan Pilot Plant , Journal of Fusion Energy (4.8 MB, pdf)1991
European Fast Track Strategy, King Panel December, 2001 (150 kB, pdf)
FESAC Fusion Development Path Panel - (35 Year plan) Final Report (1 Mb, pdf)
Strengthening and Acceleratingthe Development of Fusion Power - 2007 ISFNT Meeting Chris Llewellyn Smith, UKAEA, Culham, UK
Strengthening and Accelerating the Development of Fusion Energy -2008 AAAS Meeting Chris Llewellyn Smith, UKAEA, Culham, UK
LIFE talks to IFE NAS
---
Talks on the Need for Fusion Energy

---
---