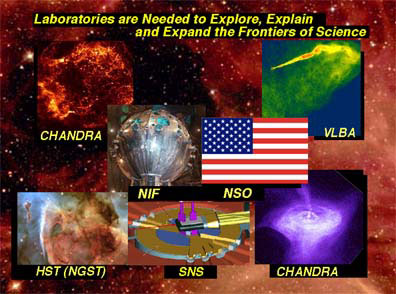 NSO/FIRE Physics Validation Review(PVR)
Updated April 5, 2004
---
The purpose of the Next Step Options (NSO) activity is to investigate and assess various opportunities for advancing the scientific understanding of fusion energy, with emphasis on plasma behavior at high energy gain and for long duration. The Next Step Options (NSO) study has been organized as a national integrated physics/engineering design activity within the Virtual Laboratory for Technology (VLT).
FIRE PVR Meeting
The FIRE PVR will be held March 30-31, 2004 at the Hampton Inn, Germantown, MD. This web page will be evolving, I will highlight changes as they are made. If you have questions, please email me. DMM
---

Presentations to PVR Committee
---

Background Information
Major FIRE Presentations and Papers since Snowmass
NSO/FIRE Proposals for FY 2006 - Draft Field Work Proposal and Presentation to VLT PAC on March 2, 2004. Posted March 11
High-b Steady-State Advanced Tokamak Regimes for ITER and FIRE Synopsis for IAEA 20th FEC accepted by US submitted to FEC Programme Committee. Posted March 11
Exploring Advanced Burning Plasma Regimes at Reactor Power Densities Dale Meade et al, talk presented at the Asian Plasma and Fusion Association Meeting, October, 2003.
MHD Issues and Control in FIRE Chuck Kessel, talk presented at Workshop on Active Control of MHD Stability Austin, TX Nov 3-5, 2003
Advanced Tokamak Plasmas in the Fusion Ignition Research Experiment Chuck Kessel et al, paper at Symposium on Fusion Engineering, October 2003
Advanced Tokamak Regimes in the Fusion Ignition Research Experiment (FIRE) EPS Talk and EPS Paper Dale Meade et al presented at the 30th EPS, St Petersburg, July 2003
Advanced Tokamak Plasmas and Their Control Chuck Kessel, Seminar at Columbia University, April 4, 2003
Diagnostics Ken Young
"Multi-Machine" Strategy: The Other Path of the FESAC Burning Plasma Strategy Gerald Navratil, presented to NRC BPAC January 18, 2003 (1.6 MB, pdf)
Physics Basis for Advanced and Conventional Operating Modes in FIRE Chuck Kessel, poster at the APS-DPP in Orlando, FL on November 14, 2002.
A Diversified International Portfolio Based on FIRE Dale Meade.presented to the FESAC Development Path Panel on November 15, 2002 and presented as a poster at the APS-DPP in Orlando, FL on November 14, 2002.
Exploring Burning Plasmas in FIRE IAEA Paper (500kB,pdf) and Talk at IAEA. (2.5 MB, pdf) by Dale Meade et al, Lyon October 14-19, 2002
FIRE, Exploring Burning Plasma Physics Dale Meade presented to NRC BPAC September 18, 2002 (2.5 MB, pdf)
FIRE, at Snowmass FIRE talk at the opening plenary session, July 8, 2002. (3.1 MB, pdf)
FIRE at Snowmass Summer Study , talk at the concluding plenary session. July 19, 2002, (1.2 MB, pdf)
FIRE Engineering Report
---

Results from the 2002 Fusion Summer Study at Snowmass
Special Information Session, Saturday July 13, 2002
FIRE and JT-60SC - Multi-Machine Development Path 8:30 am to 10:30 am
IGNITOR - 10:30 am to 12:30 pm
ITER - 1:30 pm to 3:30 pm
FIRE Presentations at the UFA Burning Plasma Science Workshop, December 11 - 13, 2000 at Austin Texas.
ANS 14th Topic Meeting on the Technology of Energy, October 15-19, 2000
---
---