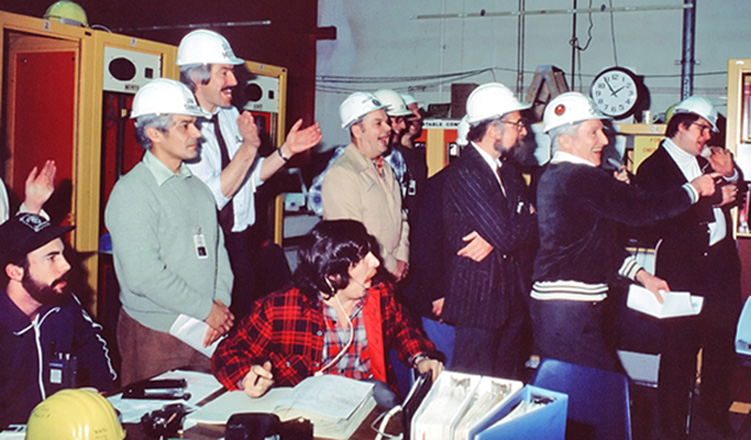 Thirty years ago at 3:06 am December 24, 1982, TFTR produced its first plasma, thus completing the official construction project after seven years of construction. On December 10, 1993, the second day of DT operation, TFTR produced 6.3 MW of fusion power at a fusion gain of ≈ 0.21. TFTR operated for 15 years and increased the fusion power gain by a factor of 1 million over the value when it was designed in 1975 to a value of 0.3 in 1995. Other TFTR milestones included: the first tokamak to use power plant DT fuel, first measurements of alpha-heating by the fusion reaction, record fusion fuel temperatures of 45 keV (500 million° C), and fusion power exceeding 10 million watts. Using advanced diagnostics, TFTR made numerous contributions to the understanding of plasma physics at the frontier of fusion plasma physics. The US fusion budget was cut by 35% in FY-1996 forcing the termination of TFTR experiments on April 4, 1997. The total cost of the TFTR Project (design, construction, operation and decommissioning) was $1.6 B. (see also PPPL News)

Fusion Program News
December 9, 2013

FIRE and Burning Plasma Physics
Updated, April 4, 2009

Fusion Library
Updated December 3, 2012


FESAC International Collab
March 10, 2011

FIRE Physics Validation Review



U.S. ITER Project News
Updated July 5, 2010

FIRE Advisory Committee Meetings

Other Fusion Information

NRC Burning Plasma Assessment 2003

FIRE Engineering Report

Fusion Meetings
Updated September 12, 2013

NRC-IFE Energy Potential
Updated, December 12, 2011


FIRE Engineering Review

IEA Workshop on Burning Plasmas -2005

Accelerating Fusion Energy 2011
Updated, July 10, 2011


Energy Resources and Needs
July 1, 2012

ISFNT 7 Updated, June 24 , 2005

Snowmass Summer Studies
1999 and 2002


IEA Workshop Optimizing High-beta Steady-State Tokamaks Feb 14, 2005

UFA Burning Plasma


Fusion Materials July 2011


APS DPP Review Talks Nov 2004




Nuclear Proliferation Issues
December 18, 2008


MHD Stability Control Workshop Nov 2003-2007

Fusion for the Future
American Security Project


20th IAEA Fusion Energy Conference 2004

AAAS Sessions on Fusion and Non CO2 Energy Sources Feb, 2005

MacFusion

Energy Options for the Future NRL 2004

AAAS Session on Burning Plasmas-2004

Fusion Power Associates(FPA)

AST 558 Prospects for Fusion Energy 2009

30th EPS and ITPA Talks July 2003

FPA Annual Meetings
December 24, 2012

FESAC Development Path

.
December 9, 2013 Contact Webmaster